While augmented reality tech is still new and thus, has some bumps to be ironed out, it's clear that it can increase purchase velocity amoung consumers. And while many of the Gen Z users that make up most of Snapchat's user base cannot afford the shoes (at least not right now), by creating these filters, Gucci is cementing brand awareness within the next generation of consumers.  
Live Video Shopping 
Buying clothing online can be challenging for consumers because they are deprived of the sensory experience that in-store shopping provides and while augmented reality helps, it is not a perfect replacement. Live video shopping is the solution some companies, like Ghost Retail, are bringing forward to help consumers and brands alike. The service aims to replicate the in-store experience by allowing customers to book private shopping experiences with associates. During these sessions, the customer and associate can browse together with both parties having the ability to add items to the shopping cart. When the client comes across an item they like, the live shopper can display the item on video. This allows the consumer to get a more in-depth look and accurately determine if it's something that they'll like and/or will work for them. This kind of tech has proven highly effective with brands that have implemented it experiencing "12x more conversions and a 40% increase in average order value." 
Social Commerce 
One of the greatest effectors of the fashion industry is the rise of social commerce through social media platforms like Instagram and Pinterest. Being one of the earliest and most popular visual platforms, Instagram has had the greatest impact. Consumers are able to browse the platform and the pages of their favourite influencers and shop directly from the app. And with "a survey conducted by Search Engine Watch [finding] that 73% of US teenagers say Instagram is the best way to reach them with new fashion items and trends", it is imperative that clothing brands have a strong presence on the platform.  
Pinterest, another explicitly visual platform, is also a big player within the industry with "fashion [being] the third most popular category and account[ing] for 45% of the activity (search, favorites and pins)." Like Instagram, it also has a social commerce feature, but unlike Instagram, images are not displayed in chronological order and are able to sorted into groups. This is particularly useful for an industry that is heavily collection based and this feature allows brands to create a highly curated experience throughout their page. Further, by grouping into collections, brands can create looks for consumers. A consumer might have only been looking for a pair of pants, but by creating mini capsules, you can sell an image to a consumer and make it more likely for them to purchase another piece from the grouping to create the intended ensemble.  
Buying clothing online can be challenging for consumers so it's important for brands to make the online shopping process as easy and streamlined as possible. Multisearch makes it easier than ever to find exactly what you're looking for, augmented reality and live shopping gives you an idea of how an item will look in person, and social commerce makes it easy to shop entire looks, because that's ultimately what clothing brands are selling; a look. Brands and marketers can utilize this tech to create more comfortable, engaging experiences for consumers shopping online, thereby making it more likely for them to purchase from your brand. 
Digitalization  
Traceability and transparency 
While Google Multisearch, augmented reality and social commerce have given marketers new ways to connect with consumers, it's important for brands and marketers to remain in touch with consumer values. Consumers want to buy from brands that understand them and reflect their values, and for many, transparency and sustainability is top of mind when shopping for new clothes. 
Historically, the fashion industry has not been forthcoming when it comes to supply chain or business practices. This is becoming less acceptable to consumers and brands know it, and as such, they're making more efforts to be transparent with consumers and ensure their products are traceable through the supply chain. And while currently "about 15% of global fashion consumers are already highly concerned about sustainability and consistently make purchasing decisions to lower their impact. That percentage could increase to more than 50% in the coming years as more shoppers gravitate toward sustainable practices." Further, younger consumers are more interested in sustainability, with "73% of millennials willing to pay more for sustainable brands", and as they age and become the dominant shopping demographic, traceable and transparent business practices will become increasingly important, and for brands, be key to remaining top of mind.  
Blockchain 
Blockchain allows brands to certify and track a product's journey from pre-production all the way to the the store. According to IBM, "Blockchain is a shared, immutable ledger that facilitates the process of recording transactions and tracking assets in a business network." This kind of tech can address concerns that consumers have had about the fashion industry for years, which is that it isn't transparent enough. It can also be useful for the luxury goods industry and help verify authenticity and reassure consumers that the $3000 bag they are buying is the real deal. Brands that are able to use blockchain effectively can meet consumer demands for transparency and position themselves as being more trustworthy and understanding in the eyes of their audience.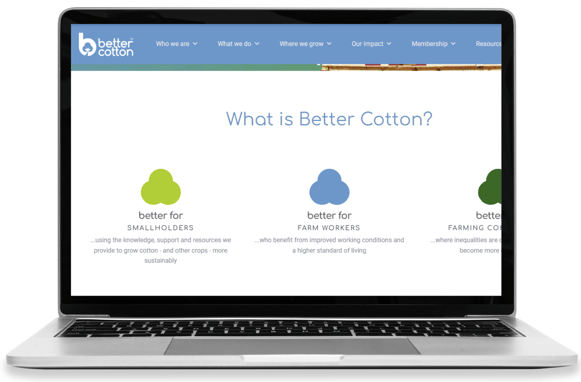 Third Party Certifications 
To meet consumer demands for sustainability, there are many different certifications clothing retailers can choose to apply for and incorporate into their marketing and promotional efforts. Popular ones include the Responsible Wool Standard, Good Cashmere Standard, and Better Cotton Initiative. These certifications all work similarly and reassure consumers that the product they are purchasing meets the strict sustainability guidelines set out by the issuing organization. Each of these certifications rely on digital technology, not unlike blockchain to track and assess each stage of the manufacturing process. For the sustainability minded consumers, which is an ever-growing segment with "85 percent of people indicate[ing] that they have shifted their purchase behavior towards being more sustainable in the past five years", the presence or absence of these certifications can determine whether they purchase, and fashion brands and marketers will want to brainstorm ways to incorporate sustainability standards into their marketing efforts.  
The Importance of Understanding 
The fashion industry is growing, with global revenue expected to reach 1.8 trillion US dollars in 2023. As such, there are many opportunities. Harnessing the innovative technology shaping the industry and determining the best way to put it to work for your brand will be imperative. But the industry is a crowded space and there are many brands vying for the attention of consumers. For brands to see success, they must respond quickly to an industry changing just as quickly. 
Getting the marketing mix right, in conjunction with innovative technologies, is important to maximizing success and ROI. Because it's not as simple as optimizing for Google Multisearch or creating a social commerce section on Instagram or Pinterest. Brands need a well-developed understanding of their consumers to ensure their marketing efforts will reach and resonate properly.
With a recession looming, consumers are being cautious with their money, and subsequently, their clothing budget. Thus, a thorough understanding of your audience, their needs, their shopping habits, and what they value both personally and with regards to clothing specifically, is critical for catching and holding their attention, and subsequently, seeing a strong return on your marketing efforts.